I'm an introvert working at home. That means 90% of my day-to-day conversations happen online in written format. While I've developed the skill to include emojis as I type (have you tried the Cmd + Ctrl + Space shortcut?), this year I wanted to learn about the cultural and linguistic function of emojis worldwide. How they set the emotional tone, meaning, clarity, or rhetoric in public conversations. This is what I've found out.
I've been running a simple script on the smallest server you can think of, ingesting tweets from the Twitter streaming API to a free Tinybird account. It's been running for the last 364 days to measure the most used emoji on Twitter for every hour of the year since the ball touched down in Times Square on New Year's Day (well, actually a few hours earlier. I live in Spain 😆).
It's the last day of 2022, and what a year it has been. We had the Winter Olympics in Beijing to kick things off on a note of global cooperation. Not a day later, the spectre of worldwide accord vanished as Russia invaded Ukraine. In April the number of confirmed global cases of COVID exceeded 500 million, even as we progressed out of this debilitating pandemic we've suffered through for nearly 3 years (and had a monkeypox scare along the way). The James Webb telescope gave us those dazzling images in July, and we mourned the end of the longest-ever British monarchical reign in September. Elon bought Twitter in October, and a seeming majority of the now 8 billion members of the world simultaneously tuned in to watch Argentina win the World Cup.
Wow. You don't realize all that's happened until you take the time to reflect.
The top emoji for every hour of 2022
Take a look at this and you'll see the top emoji used in Twitter trending topics for every hour of 2022.
Here are some highlights (and lowlights) from 2022, as measured in emoji, from the link above:
Chinese New Year

Valentine's Day

Cat Day in Japan

Russia invades Ukraine

Boris Johnson's "Partygate"

Many mass shootings in the USA

Pride Month begins in the USA

The Golden State Warriors win the NBA Finals

USA Independence Day

Halloween

Saudi Arabia beats Argentina in the World Cup

Other World Cup matches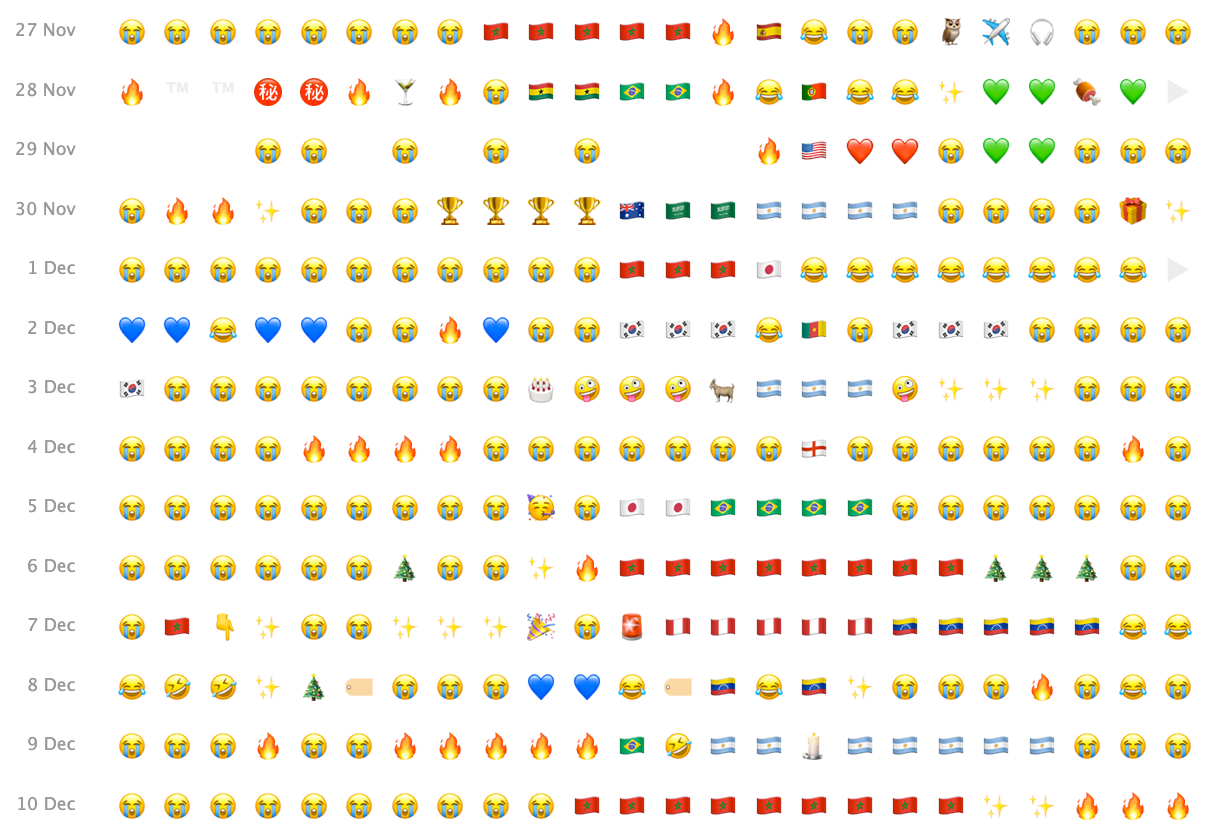 Argentina wins the World Cup, and people start prepping for the holidays

Many other trends emerged that I can't identify. Perhaps you can find events that you found meaningful in 2022, and let me know about them!
Some numbers
Now, if you are curious about numbers, we've analyzed:
A total of ~200K (not unique) trending topics throughout the year.
More than 1B tweets at a rate of ~100 tweets per second
+1TB of processed data per month
More than 1.6B emojis (and counting)
And in case you are curious, the sob emoji 😭 is the emoji most used, and it has been used twice as much as the next one (source)!
A great 2022 at Tinybird
It's also been an amazing year at Tinybird. We raised some money, added some incredible birdies to our flock, released Tinybird out of beta, and have been hard at work building a platform developers really love to use. We haven't quite elevated to Twitter #Trending status, but 2023 is a new year with new opportunities… 😜.
Here's to an emotionally healthy 2023. See you there.